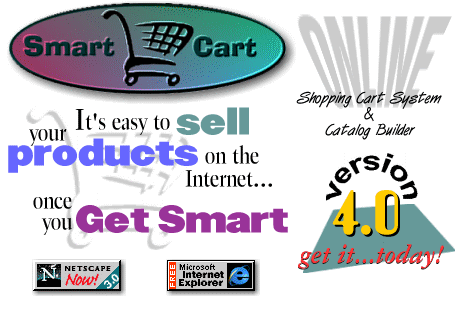 Check out what's new in Version 4.0!
The only secure shopping cart system and catalog creator that requires no special programming knowledge to build and maintain. Easy selling for you, and easy shopping for your customers. SmartCart provides you with the complete tools for effective, secure internet commerce.


READ ON...
Welcome to the online demo of The SmartCarttm Shopping Cart Software, the most powerful and versatile online shopping cart service on the market today. SmartCarttm delivers the products and technologies that assist merchants, Web Developers, and corporations to easily create and maintain dynamic consumer and business-to-business Internet Catalogs.

Ease of use and no-hassle installations are just a couple of the many advantages that make SmartCarttm stand apart from all other shopping cart systems out on the market. You do not need to know Perl, C++, Java, JavaScript, or any other advanced computer languages, as the system automatically compiles the languages necessary for proper operation, on the fly.

Additionally, Web Masters and Developers, can truly harness the capabilities of this system and customize their own unique website presentations. Every site you create with SmartCarttm can be completely original and different from the other. And any existing web pages that you may have already created can simply plug right in to this very versitile shopping cart system.

SmartCarttm comes complete with inventory controls, catalog builder, automatic account generator, inventory management utilities, search engines, order history reports, and much, much more. All the powerful features required to provide you with the essential tools for secure, easy and effective internet commerce.
---
Join Our Mailing List
Stay on top of new changes and keep informed about new releases.
---
Learn More | Sample Stores | Test Drive | Pricing | Buy Now
Order Now - Get Smart Today!
B I Z C O M I N T E R N A T I O N A L
147 W Election RD STE 200
Salt Lake City, UT 84020
801-304-0444 Phone
info@SmartCart.com Email